Examination Board: OCR
What does the course consist of?
The Art and Design GCSE course will enable you to……………
express yourself; your ideas and feelings individually

think creatively and imaginatively

improve your powers of observation

explore the world visually

develop your practical skills

learn new techniques and processes

experiment with different materials

explore the work of artists and craftspeople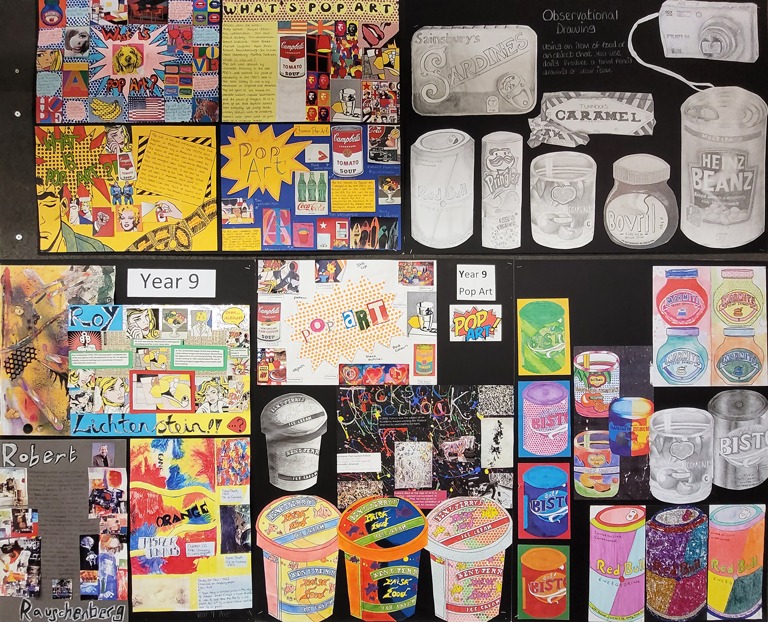 ASSESSMENT
The work required for the Art and Design, Fine Art GCSE qualification is in two parts:
Unit 1: Art and Design Portfolio – 60%
Unit 2: Art and Design OCR –Set Task – 40%
Year 9: Foundation skills
Throughout the year we will work on three projects: Pop Art, Distortions & Reflections and Expressionism. These will be produced in an A3 sketchbook. Through these projects you will be taught specific art, drawing and mixed media and Photography skills. This GCSE course is 100% non exam assessment, all components are internally marked and externally moderated.
Year 10 & 11: Coursework Portfolio & Controlled Assessment Units 
Coursework Portfolio of work: 
The work is broken down into units – each being about two terms in length. Each unit has a theme, such as 'Self Identity', 'Discarded', and 'Journey'. In class, you will develop work on the theme, learning new techniques and processes. The work is supplemented by your own investigations. Sketchbooks record your progress throughout the course.
During the course, you will explore a range of media and processes, including drawing, painting, mixed media, photography and computer-aided design. Learning about the work of artists and craftspeople will involve visits to galleries and museums. You will experiment working with large scale A1 development boards and produce final pieces of A2 size.
Controlled Assessment Set Task:
There is a set task at the end of the course. A question paper issued in January  gives a list of starting points to select one from. You will have approximately twelve weeks of class time to produce supporting work. The final piece is produced in a ten-hour period. Students can work in any medium of their choice. 
Skills
Art at GCSE will enable you to improve your practical skills and experiment with different materials and techniques. You will improve on your powers of observation and look at the work of a range of artists and craftspeople. You will think creatively and imaginatively and learn to express your ideas through drawing and designing.
Careers
A good grade at Art GCSE will enable all the following careers to be possible.
Skills developed in GCSE Art and Design course can start you on the route to a variety of courses and careers in 3D Design, Industrial Design, Jewellery or Fashion Design, Fine Art, Architecture, Graphic Design, Illustration, Ceramics, Furniture and Interior Design, Theatrical Design, Glass, Textiles, Computer Aided Design, Animation, Film or Television, Media Studies, Art History, and Photography.
Universities, colleges and employers in all fields recognise the value of Art and Design Education in developing skills for creative, critical, and analytical thought, communication, problem solving, practical abilities, and visual and aesthetic awareness.