Head of Department: Mrs M Harris
Department team:
Mrs J Downing
Miss H Farrant
Mrs J Green
Mrs V Lewis
Mrs S Mires 
Art & Design embodies some of the highest forms of human creativity. We have a high level of success within the Art department at Churston. Art is a popular subject within the school and the Art rooms are always alive with activity and buzzing with students – at lunchtimes as well as during lessons. A high-quality art and design education should engage, inspire and challenge students, equipping them with the knowledge and skills to experiment, invent and create their own works of art. They should also know how art and design both reflect and shape our history, and contribute to the culture and creativity of society.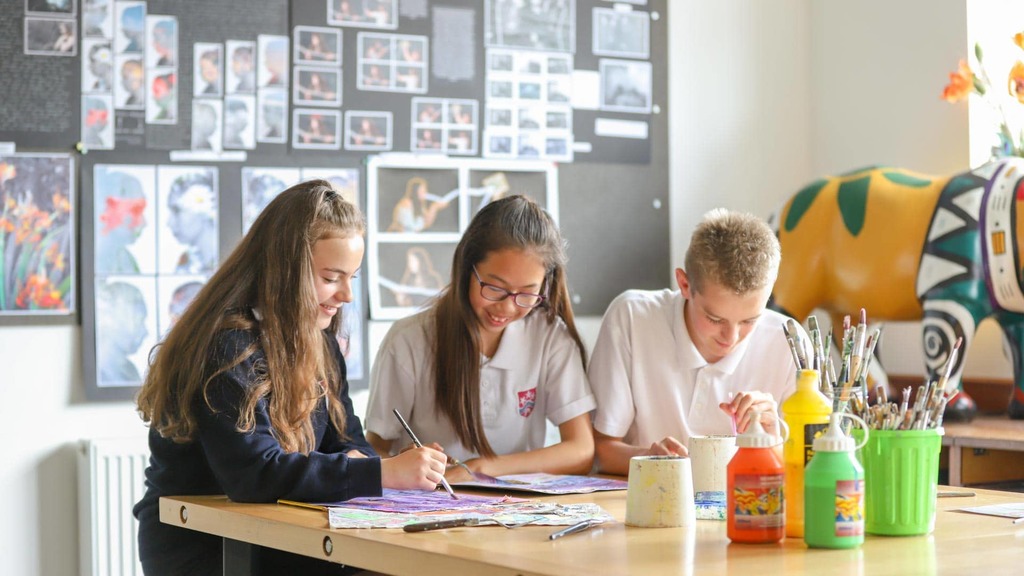 Our curriculum at Churston: 
• Challenges all students to be the best that they can become.
• Provide students with core knowledge required to be successful.
• Develops students who are resilient: creative, reflective and lifelong learners.
• Is coherent and draws links between cross curricular themes.
• Provides learning that accelerates our students' understanding of the world around them.
• Equips our students with ambition and aspirations so that they become happy and successful members of society.
• Enables students to have a range of qualifications that facilitate their next steps in their education and career.
What we do
Students study art through a rich variety of project themes; they are given the opportunity to experience
different approaches to art and design through both historical and contemporary artists.
Spiritual, Moral, Social and Cultural (SMSC) 
Year 7

Year 8

Autumn 1

Colour in Landscapes:

Historical & contemporary artist research.
Colour theory
Media exploration

Typography:

What is typography (C)
Research individual themes
Banksy artist research

Autumn 2

Formal elements in art
Mark making in a range of media
Perspective in landscape/ rule of thirds

Perspective block lettering
3D direct observational lettering drawing
Research into contemporary illustrator Moshik Nadav
Food wrapper collage

Spring 1

Oil pastel techniques
Final outcome: oil pastel landscape
Evaluation of unit

Watercolour introduction & experimentation
Viewfinder design selection.
Final outcome: food typography in watercolour
Evaluation of unit

Spring 2

Fayum Mummies & Contemporary Portraiture (C)

Historical & contemporary artist research
Self portrait
Proportions of human face
Drawing of facial features

Plastic Ocean (S)

Plastic pollution/ waste/ recycling
Contemporary artist research.
Artist personal response piece in paint
Drawing: sea creature

Summer 1

Line drawing face: grid system
Skintones; collage and paint
Introduction to poster paint

Mark making & zentangle
Pencil blending
3D artists: Damien Hirst & Yoh Nagoo
Design ideas/plan of making

Summer 2

Lucien Freud artist research
Final outcome; painted self portrait
Evaluation of unit

Modelling & collection of recycled materials
Backgrounds: marbling/texture/spray; Alexis America artist
Final outcome; 3D sea creature
Evaluation of unit