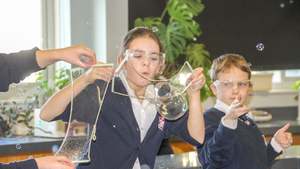 Biology is a vast andfascinating subject that covers the study of life on every scale; from large ecosystems such as rainforests to single celled organisms such as bacteria. Its immediate relevance to every individual in terms of human health and our impact upon the natural world allows students to make links between the factual knowledge covered in our curriculum with their experiences from life outside school. Studying biology empowers students to become active citizens by recognising how diverse the natural world is, and how living things interact with and depend upon one another. Biology enables students to make sense of the world around them and gives them the tools to make informed decisions about their lifestyle choices, their role within society and in looking after their environment.
The application of both maths and english through the study of biology equips students with the skills to critically analyse and evaluate scientific ideas in order to form robust conclusions. As such, students develop the intellectual tools to support them into adulthood and onto a variety of different career paths. Many of our students pursue higher education and apprenticeships within the field of biology, such as the health and medical professions, veterinary and animal care, pharmaceuticals, scientific research, medical engineering, sport and nature conservation. However, our primary goal is for all of our students to feel inspired by the diversity and complexity of life on earth, and to carry their learning from biology beyond their school years.
Our lower school curriculum enables students to study a broad range of topics that build upon their knowledge from primary school and underpin the greater detail covered at GCSE and A-level. 
Each topic provides plenty of opportunity for group discussion and practical work, allowing students the opportunity to explore their own ideas and develop their skills of scientific investigation. 
Lower school students are often very enthusiastic about aspects of biology: We encourage them to ask questions and challenge ideas to support the inquisitive nature of science and to nurture their interest in the topics.  
In addition to timetabled lessons, there is the opportunity for students to join the extra curricular science club, which provides additional practical activities to inspire and challenge our budding biologists!
| | Year 7 | Year 8 |
| --- | --- | --- |
| Topic 1 | Cells | Skeletons and muscles |
| Topic 2 | Food & diet | Respiratory system & respiration |
| Topic 3 | Reproduction | Blood, heart and circulation |
| Topic 4 | Variation, classification & ecology | Photosynthesis |