Thanks to a generous donation from the PTA, we were delighted to officially open the newly furbished fitness suite in the Autumn term, 2021.
Sam Knapman was joined by Headteacher Kieran Earley, Head of PE Martin Swannell and some of our Year 11 Sports Leaders to open the doors to our fantastic new facility in October.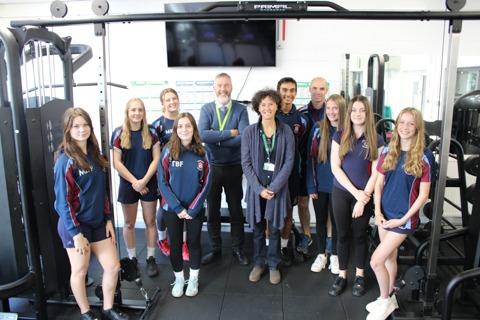 The impressive new facility replaces the existing equipment and will be used by students within lessons and as part of the wider extra curricular programme, in order to provide our students and staff a purpose-designed space in which to exercise.
Our new facilities are proving extremely popular among all students, who are able to use the room from Year 9 to 13. The impressive new facility in designed to ensure that Churston continues to provide a broad and balanced curriculum for all of our students.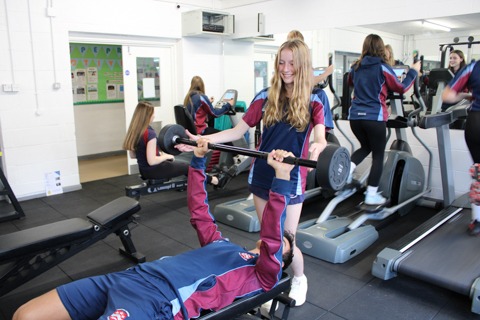 Head of PE, Martin Swannell, said "we are incredibly grateful to the PTA for their donation. This facility will help support our curriculum and further encourage our students to follow a healthy, active lifestyle within a familiar, safe and non competitive environment."
The range of equipment includes:
Refurbished fitness suite with professional gym flooring and mirrored walls.
Enhanced audiovisual system, including sound system and live-linked monitor.
A collection of cardio equipment, including treadmills, cross trainers, upright bike, recumbent bike and rower.
Multi gym station for up to 8 users at a time.
Resistance machines, including leg press and chest press
Free weight and benches, included a stack of barbells, dumbbells and sand bags
Year 11 Sports Leaders, Austin, was equally delighted with the new facility and said: "I'm really impressed how we have managed to use the space in such a productive way. I use the gym with my friends at lunch times and it has also helped me to have a better understanding of some of the theory we learn in GCSE PE, by putting it into practice."
A special thank you should go to all those volunteers who have worked tirelessly to contribute towards the PTA and their much appreciated fund-raising efforts that have been used to such good effect.